Looking for a fun, beach-inspired craft that doubles as lovely home decor? This beach jar made out of a Mason jar is just the thing! Keep reading for the easy tutorial.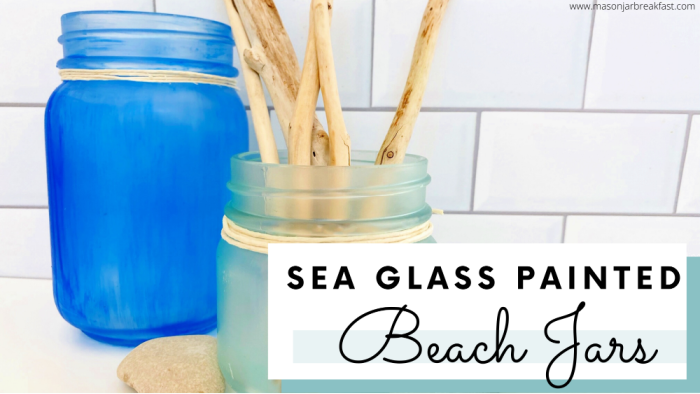 Beach Jars Home Decor
Do you love the beach? Are you craving some time swimming in the waves or reading a book in the sand? (Me, too!) The good news is, even if you can't go to the beach right this minute, you can make your home reminiscent of the beach with a sea glass-inspired beach jar!
I love these beach Mason jars–not to mention other beach home decor. There's something so soothing and calming about bringing the beach into your home. It reminds you of fun family vacations and beautiful locales. (I think that's the reason nautical and beach-inspired home decor is so popular, whether or not you live near the beach.)
This beach jar is so incredibly simple to make–and it looks far more expensive that it actually is! (Don't you love that? If you're anything like me, you love home decorating and crafting, but you can't spend a fortune at the craft store!) In fact, you probably already have most of the materials to make a beach-y, sea glass-looking decorative jar in your house already. You don't have to go to the shore to collect sea glass: just use a Mason jar!
With a few little tricks, you can make your beach Mason jar look like it's made of sea glass. Seriously! The secret? Elmer's glue. You'll find the tutorial below.
You can put just about anything beach-related in these beach jars. I used small pieces of driftwood and accessorized with a few stones from the beach; however, you could use shells, sea glass, sand dollars, coral, plants (real or faux), sand collected from your favorite beach, or another item.
For more Mason Jar decor ideas, click the links below:
Ready? Let's get to this beach jar tutorial!
MATERIALS
If you have the materials below already, that's great! If you don't, you can click the links below to find the materials I recommend. (Note that I use blue and green acrylic paints in keeping with the beach theme, but you can use other colors for your beach Mason jar if you want.)
Mason jars
Elmer's glue
Blue and green acrylic paints
Paint brushes
Scrap paper
Small paper cups
Hemp twine
Driftwood
DIRECTIONS
1. Lay out a piece of scrap paper to paint on. (This is especially important if you're doing this project with little ones!)
2. Take the lids off your jars. You won't be using them in the end, so feel free to re-purpose them for something else!
3. Mix a tablespoon of Elmer's glue with a drop of paint. Mix well. (Important: don't skip this step! Elmer's glue helps to thin out the paint and give the beach jar a sea glass look. If you use only paint, your Mason jar decor will be more opaque–which is pretty, but not the look we're going for here.)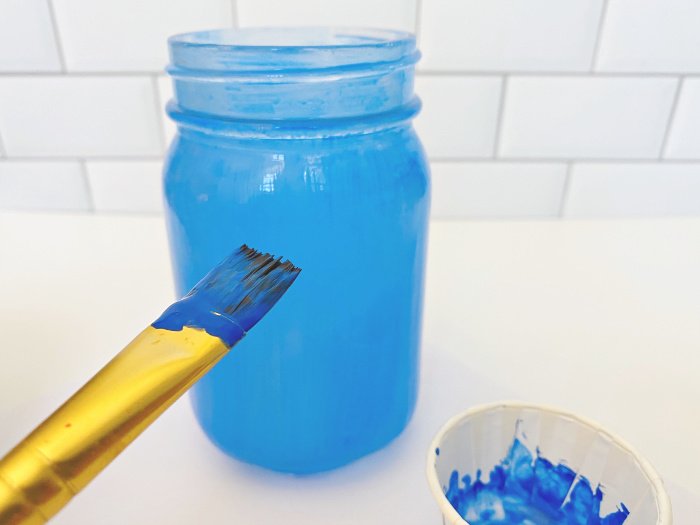 4. Paint the outside of your jars and let dry for several hours.
5. Wrap a piece of hemp twine around the top of the jars several times and tie off into a knot.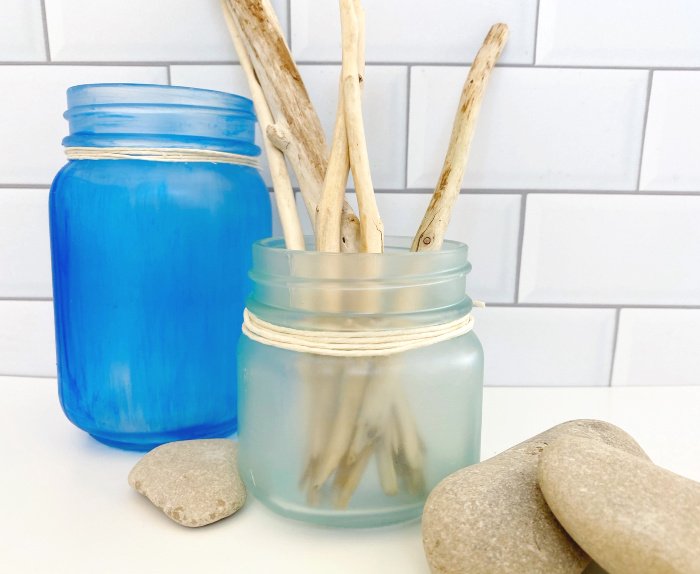 6. Fill the jars with driftwood and rocks. Display anywhere in your home. (I think these beach jars are so pretty in the kitchen and bathroom, but they also make beautiful bookshelf decor or fun table decor for themed parties.)
Don't forget to follow Mason Jar Breakfast on Pinterest for even more Mason jar crafts and Mason jar decor. There's so much inspiration, you'll practically never run out of things to do! Click for Mason jar decor, Mason jar crafts, and the Best of Mason Jar Breakfast Pinterest boards.