Mason Jar Gifts: Valentine Mason Jars
There's so much to love about Valentine's Day: celebrating with loved ones, indulging in some good chocolate, giving gifts…I love it!
What I don't love, however? The pressure and mad dash to find the perfect gift! It can be so hard to find something in a store that your spouse, friend, or family member will love–that also doesn't break the bank.
That's why I love DIY Valentine's gifts–especially Mason jar gifts and centerpieces!
Mason jar gifts are fantastic: they're fun to make (and to get as a gift), the materials are inexpensive, and they're practical to boot! You can decorate them and fill them with candy, brownie mix, flowers, utensils, whatever! They're also so easy to customize, so you can give a gift that really tells your loved one that you thought of them and you know what they like! (There's just something about making something specifically for someone that says, "I care about you," you know?)
In this post, you can learn how to make one of my favorite Valentine Mason jars! This jar is festive and cute and makes the perfect candy jar! You can make a few of them and give them out to friends, family, loved ones, your kid's class, etc. I mean, who doesn't love a beautifully made jar of candy? (Not to mention, after the candy is gone, the Mason jar makes a great centerpiece and table decor!)
If you want more Valentine Mason jar crafts, be sure to check out the rest–here are more Mason jar gift ideas for Valentine's Day as well as other holidays throughout the year:
Don't forget to bookmark these Mason jar crafts for future gift ideas!
Ready to get started with this Valentine's Day Mason jar? Keep reading for the tutorial!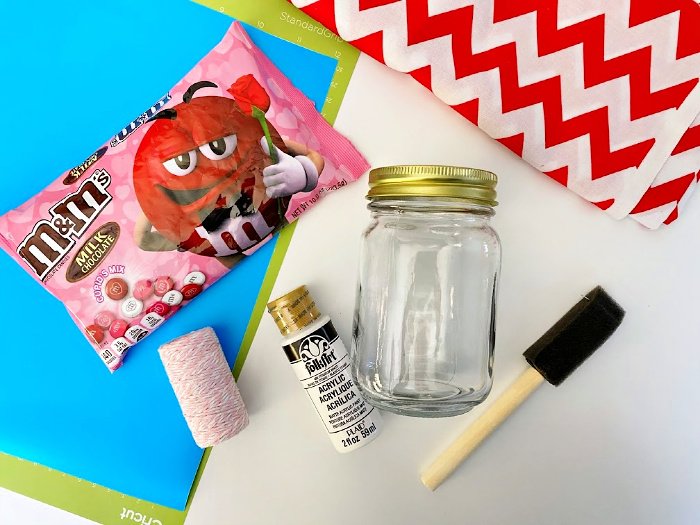 MATERIALS
16 oz Mason jar
Heart sticker
White acrylic all purpose paint
Foam paint brush
Valentine's fabric
Pink twine
Scissors
Hot glue/hot glue gun
Valentine M&M's
DIRECTIONS
1. Cut a 4 x 4" heart from sticky stencil paper using a Silhouette or Cricut. (You can also buy one off Etsy or use a heart sticker from the store.)
2. Stick the heart onto the center of your Mason jar.
3. Lay out a piece of scrap paper or scrap newspaper to catch paint drippings. Paint the jar white and let it dry. (If you don't like white, you can always use a different color! Pink is festive, but you can use any color you like.)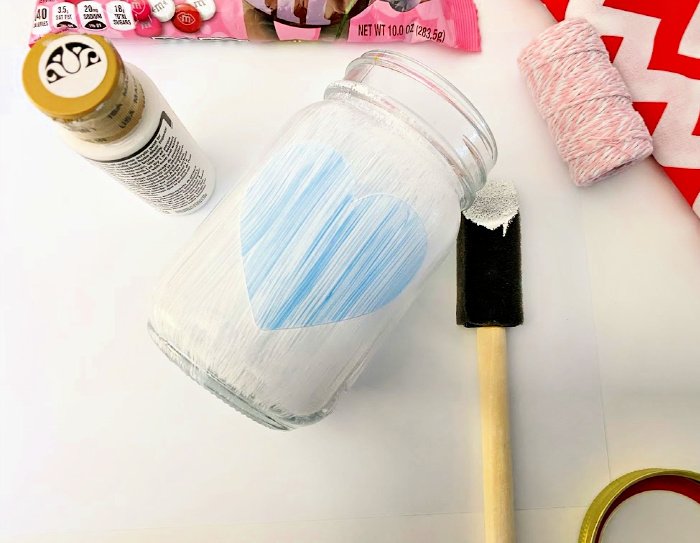 4. Paint a second coat (and a third, if necessary) and let dry.
5. Remove the heart sticker.
6. Trace the top circle of your lid onto a piece of fabric, cut out with scissors,  and carefully glue circle to the top of the jar.
Note: I liked this chevron pattern, but you can go with whatever fabric you think the gift recipient will love!
7. Cut a 2" thick piece of fabric that fits around the top of your jar.
8. Fill the jar with Valentine M&M's, place the lid on the jar and carefully glue the fabric around the lid.
Note: Valentine M&M's are perfect for the holiday, but if the gift recipient doesn't like M&M's, you can fill the Valentine Mason jars with a different candy like Hershey Kisses, Miniature Reese's Peanut Butter Cups, candy hearts and more!
9. Wrap and tie a long piece of twine around the fabric three times and tie into a bow.
And that's it! That's how you make one of my favorite Valentine Mason jars.
I'd love to know how yours turned out! Let me know in the comments below how you made your Valentine's Day Mason jar.
Not done crafting? I don't blame you! You can find even more Valentine's Mason jars inspiration by following Mason Jar Breakfast & More's Pinterest boards! Be sure to follow our Mason Jar Valentine's Ideas, Mason Jar Gifts, and Mason Jar Crafts Pinterest boards.