Looking for a refreshing and convenient way to enjoy the flavors of Greece? Say hello to the best Greek salad recipe in a jar! If you're a fan of this classic Mediterranean dish, you'll love the convenience and portability of preparing it in a jar.
Whether you're planning a picnic, need a quick and healthy lunch option, or simply want to add more wholesome ingredients to your diet, this Greek salad recipe in a jar is the perfect solution. Get ready to embark on a culinary journey to the sunny shores of Greece!
Health Benefits of Traditional Greek Salad Recipe
Not only does this recipe for Greek salad satisfy your taste buds, but it also provides a multitude of health benefits.
Packed with fresh vegetables like cucumber, tomatoes, and broccoli, this recipes: Greek salad offer a generous dose of vitamins, minerals, and antioxidants. The addition of buffalo mozzarella or feta cheese provides protein and calcium, while the sun-dried tomatoes add a burst of intense flavor and valuable nutrients.
Making Mason Jar Salads 
Not only is this cucumber salad with onions and tomatoes healthy and delicious, but preparing these Greek salad recipes are simple and convenient too. Start by layering the ingredients in a Mason jar, beginning with the dressing at the bottom, followed by the vegetables, cheese, and sun-dried tomatoes.
This unique vertical layering technique not only creates a visually appealing presentation but also helps preserve the freshness of the salad. When you're ready to enjoy it, simply shake the jar to distribute the dressing and savor the delightful combination of flavors.
Depending on the ingredients added, a make-ahead Mason jar salad can last for up to 3 days. That means you can have lunch ready for the week ahead or a side salad with your main entrée.
Are you salivating yet? Let's get to this delicious Greek salad recipe.
Greek Salad Ingredients
*Makes 4 servings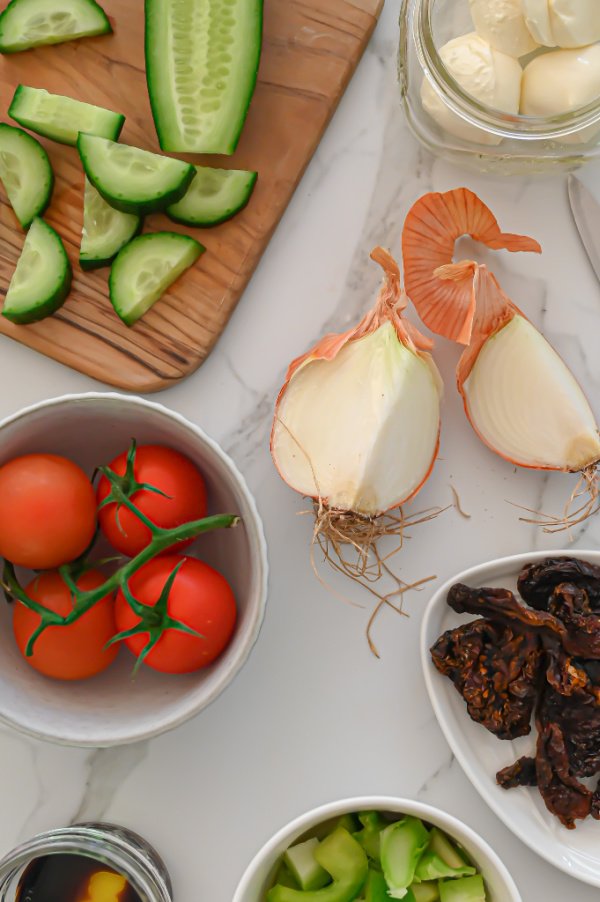 Greek Salad Ingredients:
1 Cucumber chopped
1 Cup chopped tomatoes
1 Chopped broccoli stalk
1/3 Green pepper
1/3 Onion chopped
70g Buffalo mozzarella or feta cheese
1/3 Cup sun dried tomatoes
Greek Salad Dressing Recipe Ingredients:
60ml Olive Oil
10ml Balsamic Vinegar
Pinch of salt
1/4 Tsp black pepper
1/2 Tsp dried oregano
Greek Cucumber Salad Instructions
Start by cutting the cucumber into quarters, a total of 4 pieces. Using a spoon, scoop out and discard cucumber seeds, this avoid the salad from becoming too soggy. Chop cucumber into small cubes, roughly 1/2-inch pieces.
For the dressing, use a separate jar, by adding all the ingredients, covering it with a lid and shaking it. Set aside.
Place your meal prep jars on an even surface. Start by adding the layers of cucumber, tomatoes, green pepper, onion, and mozzarella cheese as well as your sun dried tomatoes.
Drizzle the Greek salad dressing recipe once all the layers are stacked and sprinkle some crunchy pine nuts on top of the final layer. 
Another option you can follow is by adding all the ingredients to a large mixing bowl, by mixing them together and then transfer equal portions of mixed salad into individual glass jars.
Cover your jars with your airtight lids.
You can store this cucumber tomato and onion salad in the fridge for up to two days. This recipe Greek salad is great to have in the fridge for those busy days. It's perfect on its own or on the side with a delicious grilled protein, like fish.
More Mason Jar Salads
Want more Mason jar salad ideas? Try this delicious Apple Harvest Mason Jar Salad Recipe. It's a delightful combination of fresh ingredients packed into a convenient Mason jar.
This salad is bursting with flavors and textures that will satisfy your taste buds and leave you feeling energized. Get ready to indulge in the sweetness of gala apples, the tanginess of raspberry vinaigrette, and the crunch of walnuts.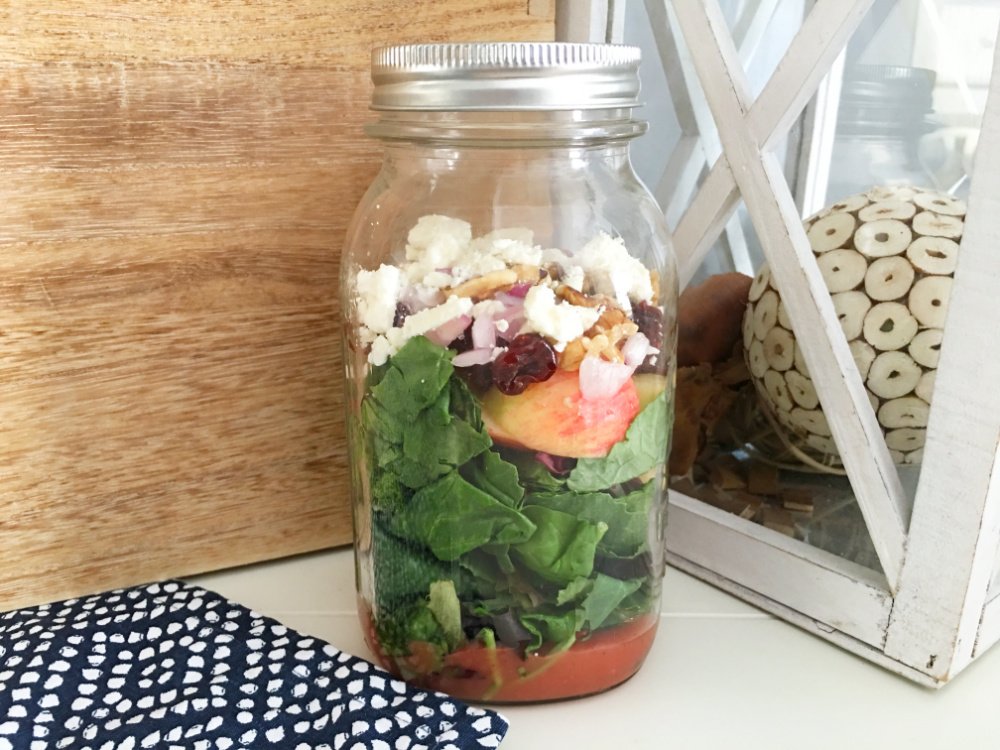 This salad is not only a feast for the taste buds but also a nutritious option for a quick and convenient meal. The combination of mixed greens, apples, dried fruits, nuts, and feta cheese provides a balance of flavors and a variety of essential nutrients.
With its vibrant colors, delightful textures, and refreshing taste, the Apple Harvest Mason Jar Salad is a perfect addition to your meal rotation. Enjoy the harvest season with this delicious and healthy creation.
This Mason Jar Taco Salad Recipe is a must try. This Mason jar recipe is a portable and delicious way to enjoy the flavors of a classic taco in a convenient jar.
This recipe combines layers of fresh ingredients with the savory goodness of seasoned hamburger, black beans, cheese, and more. Get ready to satisfy your taco cravings with this fun and easy-to-make dish.
Enjoy this portable taco salad as a quick and satisfying meal on-the-go, a convenient option for picnics or lunches, or a fun addition to your party spread. The layered presentation in the Mason jar not only looks visually appealing but also keeps the ingredients fresh and ready to enjoy.
With its vibrant colors, bold flavors, and easy assembly, the Mason Jar Taco Salad is a fantastic way to enjoy the taste of tacos in a portable and convenient format. Give it a try and elevate your salad game today!
Now that we have shared the best Greek salad recipe in a jar, we hope it helps you have a convenient way to enjoy the vibrant flavors of Greece.
Whether you're planning a picnic, need a quick lunch option, or simply want to add wholesome ingredients to your diet, this Greek cucumber tomato salad in a jar is the perfect solution. With its multitude of health benefits, including fresh vegetables, protein-rich cheese, and flavorful sun-dried tomatoes, this salad is as nutritious as it is delicious.
How would you customize your Greek salad recipe in a jar to make it your own? Share your ideas in the comments below!