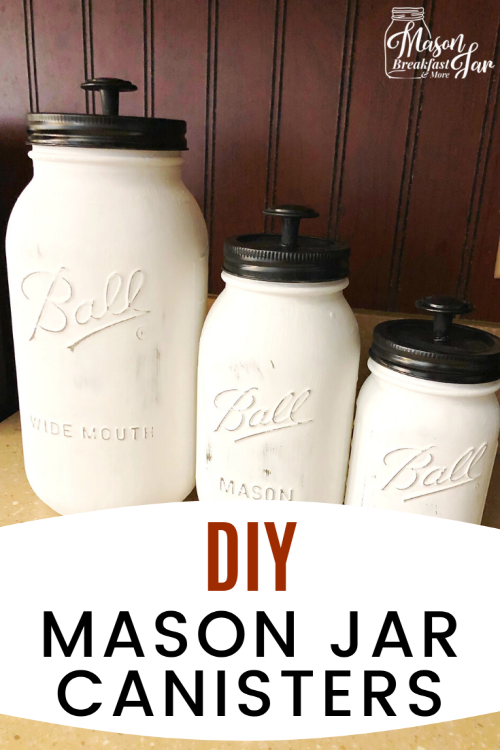 Easy DIY Mason Jar Canisters
I love, love, love Mason jars (if you couldn't already tell from the rest of the content on this site!). I mean, they're just so useful! They're perfect as containers for salads, soups, and overnight oats, and they also make great decorative centerpieces to hold whatever you need. (Check out this wedding centerpiece, this fall centerpiece, and this scented candle holder, for example.) But that's not all: I really like to use Mason jars as DIY canisters. In the kitchen, they make great cookie jars, flour/sugar canisters, and dried herb/spice containers (like cinnamon sticks or clove). In the bathroom, they're great canisters for cotton balls, bath salt mixes, and Q-tips.
Because they're so cheap (you can buy them in bulk!) and simple to DIY, it's easy to:
Organize your home, using as many Mason jar canisters (in as many sizes) as you need.
Make it look like you spent a fortune on pretty canisters at The Container Store. (Shhh, it'll be our little secret!)
That's the kind of project I'm all about: one that's useful and frugal–but doesn't look cheap, you know? The DIY canisters below don't even have to look like "Mason jars," if you're not into the rustic chic vibe. They're endlessly customizable: you can choose the number and sizes of the Mason jar canisters, the type/color/size of the knobs for the lids, and the color of the paint, if you like. I personally chose white and black chalk paint because it goes with pretty much everything and isn't a color scheme I'll get sick of any time soon–but maybe you want to paint yours sage green, or bright orange, or gold, or rainbow stripes!
Ready to DIY your own Mason jar canisters? Let's get started!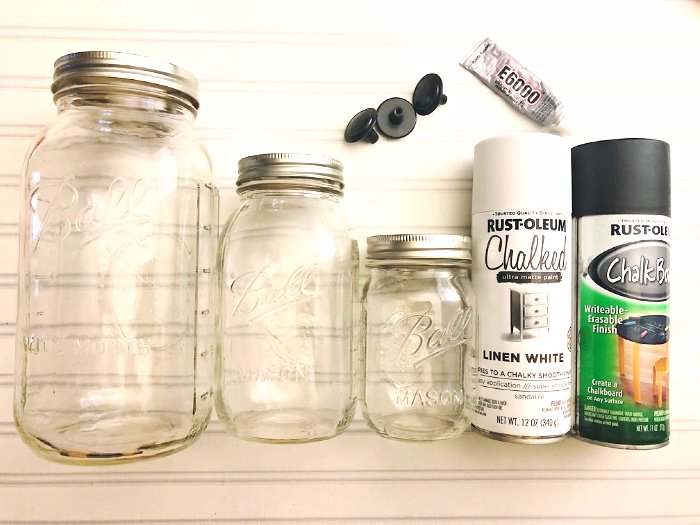 SUPPLIES
DIRECTIONS
1. Read the directions on the back of the E6000 glue. Carefully glue the bottom of the knobs to the round tops of the lids and let dry overnight.
2. In a well-ventilated area (or outside), lay out several pieces of newspaper. Set the jars on the newspaper and spray the outside of your jars white. Following the paint can instructions, let dry.
3. Spray the canisters again, and let dry overnight.
4. Spray the lid and lid ring black, and let dry overnight.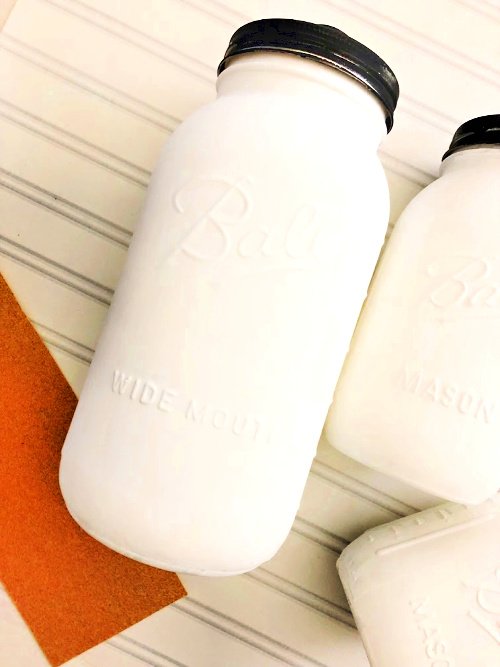 5. Screw the lids on, and lightly sand the white jars with sandpaper. (You can skip this step if you don't like the sanded/antique look.)
That's it! Easy, right? You'll have your own DIY Mason jar canisters in no time, and with almost no effort. I'd love to see what you come up with: let me know in the comments what you decided to do for your DIY canisters!
Want More Mason Jar Ideas?
Also, be sure to follow Mason Jar Breakfast & More's Pinterest boards for the best in Mason jar inspiration and tutorials: Best of Mason Jar Breakfast, Mason Jar Crafts, Mason Jar Decor, Mason Jar Kitchen, and Mason Jar Storage Organization.