Is brown bagging it getting a little boring? Try this Ball Mason jar salad idea for an apple harvest salad. This Mason jar salad will have you eagerly anticipating lunchtime!
Mason Jar Salad Idea: Apple Harvest Mason Jar Salad Recipe
Sure, taking a sandwich to work every day can save you big bucks, but it can also get pretty boring. Plus, if you try to make those sandwiches ahead of time (like the night before) the bread can get soggy and pasty, which is definitely not appetizing. That's why I turn to Ball Mason jar salad ideas to keep lunch yummy and frugal.
The best Mason jar salads (like this one) are not only delicious but nutritious. The mixed greens and apple in this Mason jar salad idea contain fiber, which will help you ignore the siren's call of the vending machine. The walnuts and cheese contain healthy fats and protein that'll help you power through that 3 PM slump. Plus, this Ball Mason jar salad has far fewer calories than just about anything you can get at a restaurant with your coworkers.
You can also make Mason jar salads ahead of time (usually) without them losing any of their taste. Some Mason jar salad ideas (such as this Mason jar taco salad) can be made 5 days or even a full week in advance and stored in the fridge. For this Ball Mason jar salad idea, I'd stick to 3 days or less so that the greens don't get over-saturated with dressing or start to brown.
If you're looking for a frugal, nutritious, delicious, and fast lunch option, this is one of the best Mason jar salads around!
INGREDIENTS
24 oz Mason jar
1/4 cup raspberry vinaigrette
2 cups mixed greens
1 small sliced gala apple
2 tablespoons chopped red onion
2 tablespoons dried cherries or cranberries
2 tablespoons walnuts
2 tablespoons feta cheese crumbles
DIRECTIONS
1. Pour dressing into the Mason jar.
2. Add mixed greens.
3. Add sliced apple.
4. Add cherries, onions, walnuts, and feta cheese to Ball Mason jar salad.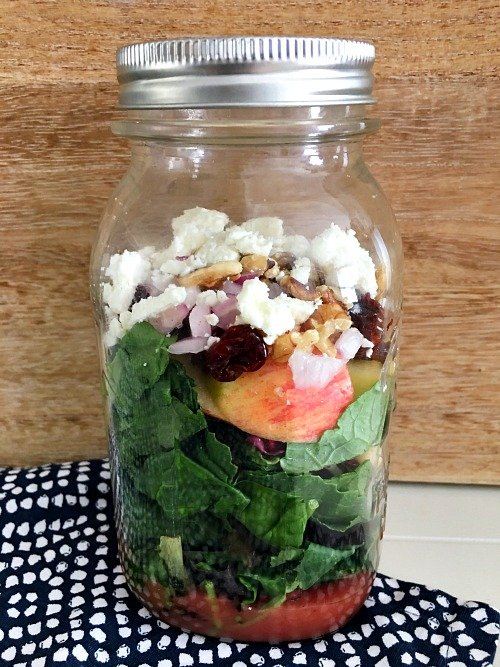 5. Twist the lid on this tasty Mason jar salad idea until you're ready to enjoy it.
Make Mason jar salads ahead of time (for example, the night before), and store them in the fridge until you're ready to dig in. Before eating, shake this Ball Mason jar salad well and then either eat directly from the jar or pour the contents into a bowl.
Looking for more of the best Mason jar salads and lunches out there? Get inspired by following Mason Jar Breakfast and More's Mason Jar Salads and Mason Jar Lunches Pinterest boards.
What are your favorite Mason jar salads? Please share in the comments.