Learn how to make overnight oats recipe in minutes! This healthy overnight oats recipe makes a yummy, fast breakfast option.
Mason Jar Peanut Butter & Banana Overnight Oats Recipe
Are your mornings hectic? Like 'why are my keys in the freezer' or 'forget it, I'll just wear shoes that don't match'  hectic? If so, I feel your pain. However a chaotic morning does not mean you have to skip breakfast or grab something greasy from the nearest drive thru. Nope, you can enjoy a nutritious and delicious breakfast without a lot of hassle thanks to this overnight oats recipe.
Learning how to make overnight oats will save you a lot of time in the morning even if you have a brood of picky eaters to contend with. That's because most overnight oats recipes come together in minutes. Plus, since you make overnight oats in a Mason jar it's pretty simple to make everyone's fav flavor without taking all night or dirtying every dish in the house!
I'm particularly fond of this peanut butter overnight oats recipe because it's quick, easy, a great way to use up those bananas that have been sitting on the counter for a week, and delicious. Oh, and did I mention it's a healthy overnight oats recipe? Yep, no need to feel guilty for this little indulgence!
If peanut butter overnight oats aren't really your thing or you have a peanut allergy, no worries! There are lots of easy Mason Jar breakfast recipes to explore. Here are some of my favorite healthy overnight oats recipes:
INGREDIENTS
1/2 cup old fashioned oats
1/2 cup milk
1 tablespoons peanut butter
1 teaspoon chia seeds
1/4 teaspoon cinnamon
1/4 teaspoon vanilla extract
1/2 banana, cubed in small pieces
8 oz Mason jar
DIRECTIONS
1. Place oats, cinnamon, chia seeds, and vanilla extract in the Mason jar.
2. Pour in milk.
3. Top with banana pieces.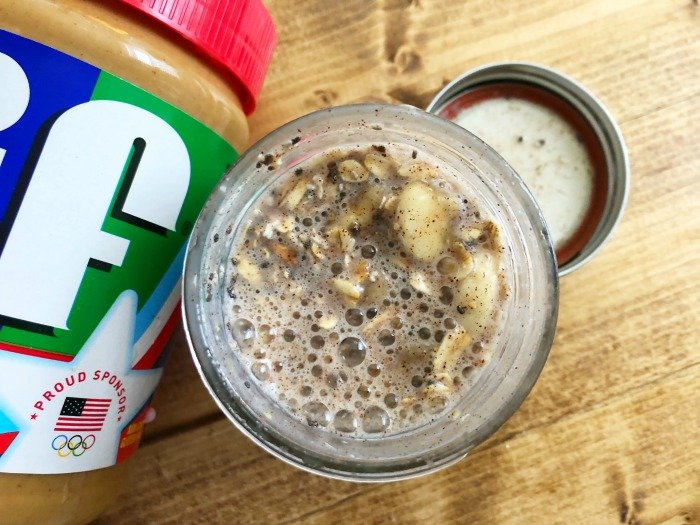 4. Place the lid on the Mason jar and shake vigorously to combine ingredients.
5. Open the Mason jar and add peanut butter.
6. Re-cap the jar and shake again.
7. Place in the fridge overnight and enjoy in the morning.
Loving this overnight oats recipe? Get more Mason jar breakfast recipes by following the Best of Mason Jar Breakfast & More and Mason Jar Breakfasts Pinterest boards.