This simple overnight oatmeal in a jar is a nutritious & delicious way to start your day off on the right foot! Bonus: You only need 5 ingredients.
Blueberry Overnight Oatmeal in a Jar Recipe
I'm about to give you permission to indulge in a sweet and creamy breakfast treat in the form of this overnight oatmeal recipe! Read on! 🙂
Breakfast has a reputation for being the most important meal of the day and for good reason. For starters, when you wake up, your blood sugar is typically low because you've been fasting all night. Breakfast gives your muscles and organs (including your brain) the energy they need to get moving! The benefits of breakfast don't end there:
Many studies have linked eating breakfast to good health, including better memory and concentration, lower levels of "bad" LDL cholesterol, and lower chances of getting diabetes, heart disease, and being overweight. – WebMD
However, despite it's benefits, many people skip breakfast. Common reasons for skipping breakfast include a lack of time and dieting. This simple overnight oatmeal yogurt eliminates both of those excuses!
First off, this overnight oatmeal refrigerator recipe is fast… especially in the morning since you just grab it from the fridge! All of the prep involved with this oatmeal in a jar dish is conducted the night before. However, even then, it's super quick. You can whip up this overnight oatmeal recipe in less than 15 minutes.
For those of you dieting, this super simple overnight oatmeal yogurt dish will keep you on track. You can make this oatmeal in a jar recipe as healthy as you like by opting for high protein options like plain Greek yogurt. Another way to up the nutrition factor is to cut down on (or even eliminate) the maple syrup.
This oatmeal in a jar is quick, easy, delicious, and nutritious… so you have no excuse to skip breakfast now!
Looking for more spoon-scraping good oatmeal in a jar recipes? Be sure to check out these recipes for overnight oatmeal without milk!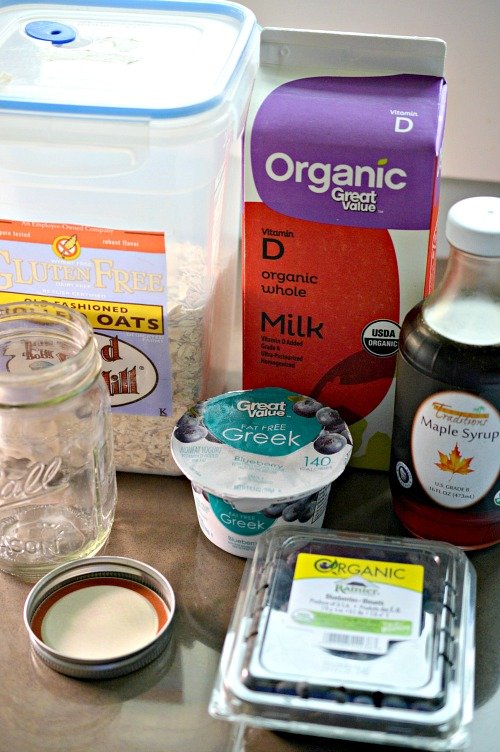 INGREDIENTS
1/3 cup oats (old fashioned, not quick)
1/3 cup milk
1/3 cup yogurt (flavored or plain)
1/2 cup fresh fruit
1 tablespoon maple syrup
pint or jelly size jar
DIRECTIONS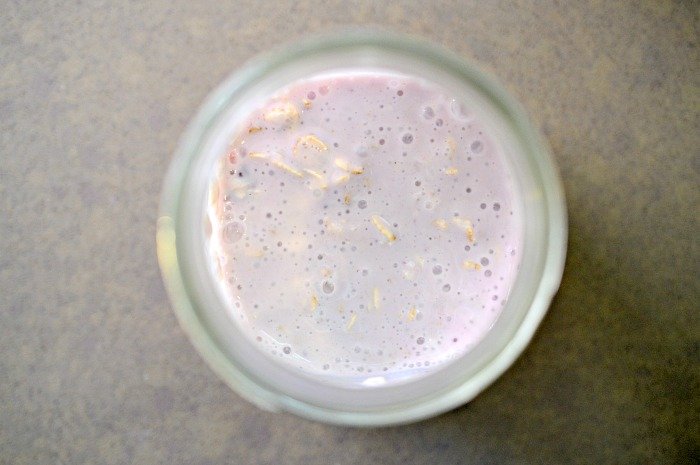 1. Add oats, milk, and yogurt to a jar and combine.
2. Mix in the maple syrup.
3. Slowly fold in the fresh fruit.
4. Sprinkle a few extra oats on top.
5. Place a lid on the oatmeal in a jar.
6. Place the overnight oatmeal recipe jar in the fridge overnight.
7. Enjoy your overnight oatmeal yogurt the next morning!
What creative combinations have you come up with for this oatmeal in a jar recipe? Share your favorite overnight oatmeal yogurt and fruit combos in the comments!
Love this simple overnight oatmeal recipe? Want more Mason jar meals? Be sure to follow Mason Jar Breakfast's Mason Jar Breakfasts, Mason Jar Lunches, and Best of Mason Jar Breakfasts & More Pinterest boards.