Mason Jar Desserts: Cherry Mason Jar Lid Pies
I love to cook and bake because I love to eat, ya know?
Let me rephrase. Some people like to cook and bake for the process itself. They like the art and science of it, and can happily spend hours in the kitchen tinkering with recipes. When the meal, dessert, or baked good is done, they'll sample it, make note of what worked and what didn't, and then feed it to others–because it's not the end product that matters so much as the process.
Those people are…not me.
Don't get me wrong, those people are great! They come up with some really intricate, phenomenal recipes. But not everyone has the time, energy, or resources to spend hours in the kitchen tweaking recipes, with little desire to eat the end product. (And not everyone has a kitchen full of really obscure ingredients and strange kitchen gadgets.)
I really do enjoy cooking and baking, but I'm also a busy mom, so I need the recipes to hit the trifecta of delicious, quick, and foolproof. If you're like me, you know how it goes: you've got a family to feed and everyone is hungry now. You need to get something on the table quick, and you don't have the time (or let's be real, the budget!) to simply re-do a meal or dessert that goes catastrophically awry. (Such a waste of ingredients and money, right?)
That's why I love Mason jar recipes!
These types of recipes are so, so simple and easy, they're practically foolproof. And of course, they are also quick to make and delicious to eat. For me, Mason jar recipes–whether they are for breakfast, lunch, or dessert–check all the boxes.
You can find all sorts of other recipes and desserts in a jar on this site:
Today, however, I want to talk about my current favorite Mason jar dessert: these Cherry Mason Jar Lid Pies.
There are so many reasons why I love this particular Mason jar dessert: they're easy, delicious, inexpensive, and–on top of all that–they make adorable single-serving pies! That means you can make a few for your family or you can make a bunch and give them out as holiday or teacher gifts! I mean, who doesn't love having a whole pie all to themselves? (Of course, at a more manageable serving size!)
If you're not an experienced baker or have never made pie before, never fear! This dessert in a jar recipe uses a few shortcuts that makes the dessert easier and faster to make, without sacrificing any taste!
Refrigerated pie crusts (Pillsbury is the one used, but you can use any brand you like) mean you don't have to spend hours chilling, then rolling out, finicky pie dough.
Cherry pie filling makes the filling a cinch: no more messing with sugar and fruit to find the perfect balance of sweet and tart–it's done for you!
This recipe uses a Mason jar lid to bake the pie! (Yes, you can use a Mason jar lid!) It's such a simple hack, but it works great: you don't have to go out and buy a specific pie pan, and the Mason jar lid is the perfect single-serving size.
With these hacks, your cherry pie dessert in a jar will come together in no time. To kick things up a notch, all you have to do is brush some egg onto the pie lid and sprinkle some brown sugar on top. That gives the pie crust a beautiful, extra-appetizing golden brown exterior.
Okay, is your mouth watering yet? You are about 30 minutes away from my favorite Mason jar dessert (and that includes the bake time!). Let's get started with this cherry pie!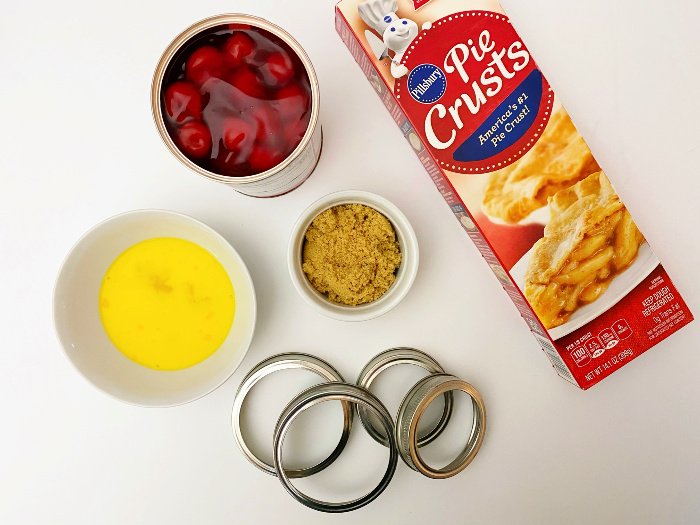 INGREDIENTS
Makes 4 pies
Note: I know not everyone has time to run to the grocery store, so I've linked some great ingredients and supplies from Amazon for this Mason jar dessert!
(2) Refrigerated pie crusts
Pie filling
1 Egg
1 Teaspoon of milk
1 Tablespoon brown sugar
You will also need:
Large or small Mason jar lids
Pastry brush
Small bowl
Fork
Parchment paper
Cookie sheet
DIRECTIONS
1. Preheat your oven to 425 degrees and line a baking sheet with parchment paper.
2. Carefully roll out the pie crust. Place a Mason jar lid on top of the pie crust and use a butter knife to cut around the lid. (Cut a little extra around the lid, as pictured. This is because you'll need some extra crust to connect the bottom part of the pie crust with the top part.)
3. Spray the lids with a non-stock cooking spray and place the 4 lids onto the pan.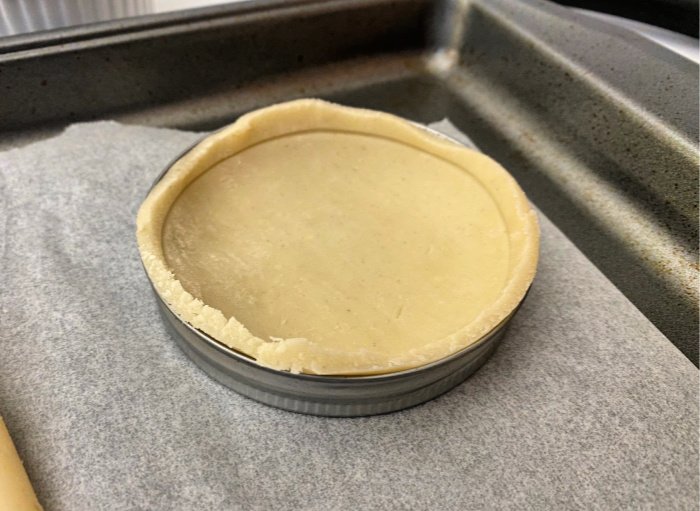 4. Place a pie dough circle into 4 lids.
5. Scoop 2 tablespoons of pie filling into the center of each pie dough circle. (By the way, this Mason jar recipe uses cherry pie filling, but feel free to experiment with other fruit pie fillings if cherry isn't your favorite!)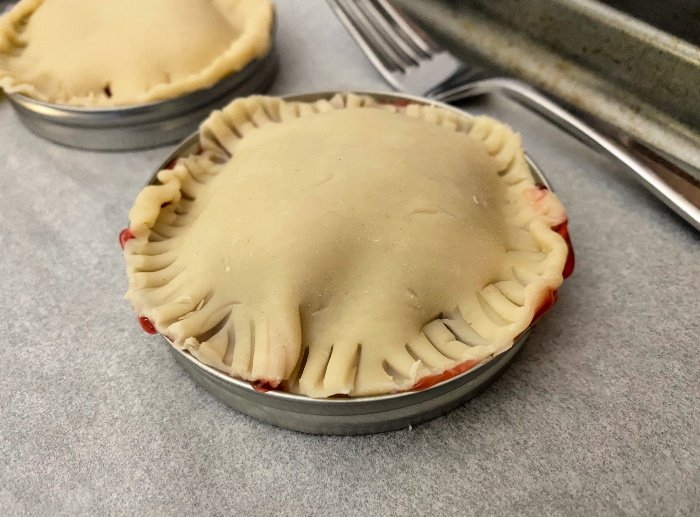 6. Place another pie dough circle on top of the pie filling and pinch the edges together with a fork.
7. Whisk 1 egg with a teaspoon of milk in a small bowl and brush it on the pie dough.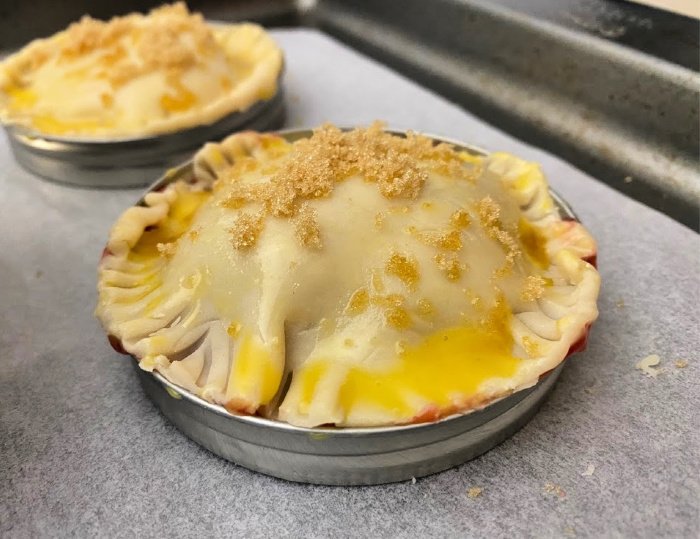 8. Sprinkle with brown sugar and bake for 15-18 minutes (or 13-15 if you use the small Mason jar lids).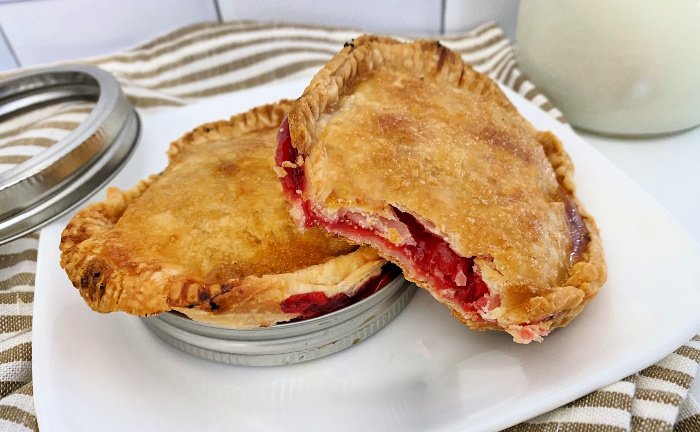 And there you have it! How easy was that? Don't wait–get to making this Mason jar dessert ASAP and be prepared to reap tons of compliments from family and friends! Also, feel free to let me know in the comments below what your favorite dessert in a jar is.
Need more Mason jar desserts and other recipes? Be sure to follow Mason Jar Breakfast on Pinterest! Check out Mason Jar Lid Pies, Mason Jar Desserts, and Mason Jar Cookies for a treasure trove of ideas and recipes.