5 simple steps are all that stand between you and this mini cheesecake recipe… and you don't even have to turn on the oven!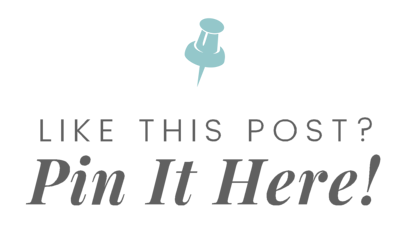 Easy Mini Cheesecake Recipe: No Bake Cherry Cheesecake in a Jar Recipe
Are your sweet tooth and waistline at war with each other? What's a gal to do? The answer is not white knuckle it! Completely depriving yourself of all the yummy things in life will lead to a late night binge during which you eat an entire bag of cookies, cake, etc. Trust me. Instead, turn to single serving desserts like this mini cheesecake recipe.
Mini desserts, like this mini cheesecake recipe, are a great way to sate your sweet tooth without going overboard. Plus, they don't leave a bunch of extras lying around that'll tempt you later on (like at 3 a.m.).
In addition to it's perfect size, I'm a huge fan of this easy cheesecake recipe for a couple of reasons. One, it's easy. Don't know how to make a cheesecake? No worries! Only 8 ingredients and 5 simple steps stand between you and a delicious Mason jar cheesecake that'll have you scrapping the bottom of the jar to get every last crumb! 🙂
Part of the reason it's easy is that this is a no bake cheesecake recipe, meaning you don't even have to pre-heat the oven! This no bake cheesecake recipe is great in the summer when you don't want to heat up the house and also great for get-togethers when your oven is being monopolized by other dishes.
This mini cheesecake recipe can also be scaled up or down to fit your needs. Want a Mason jar cheesecake just for you? No problem; make one. Need cheesecake in a jar for a party of 6? No problem!
So, let's recap. This mini cheesecake recipe for cheesecake in a jar is individual sized, easy, a no bake cheesecake recipe, and can easily be scaled up or down. Hmm, have I forgotten anything? Oh, yeah, this mini cheesecake recipe is also delicious! Seriously, you're going to fall in love with this easy cheesecake recipe.
Love cheesecake? Me too! Here are some more yummy no bake cheesecake recipes: blueberry cheesecake parfait with cinnamon granola and strawberry cheesecake yogurt parfait! 🙂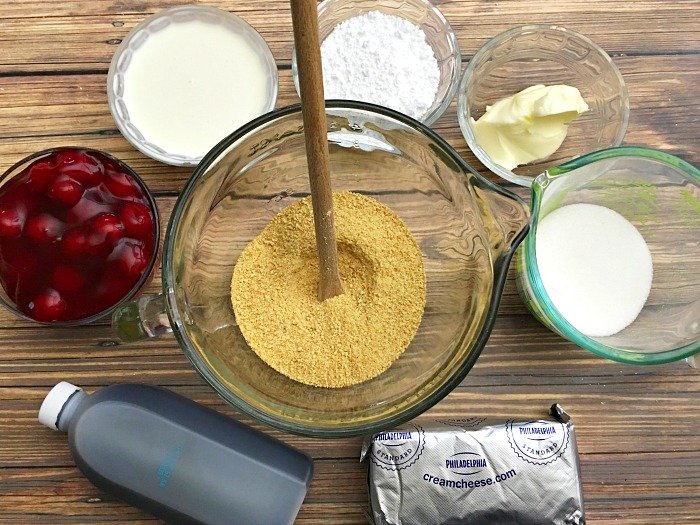 INGREDIENTS
These ingredients will make six (6) Mason jar cheesecakes.
For the Crust
1 cup graham cracker crumbs
1/4 cup granulated sugar
6 tablespoons softened butter
For Cheesecake Filling
8 oz softened cream cheese
1 cup powdered sugar
1 cup heavy whipping cream
1 tablespoons vanilla extract
For Cherry Topping
2 20 oz cans cherry pie filling
2 mixing bowls
6 8 oz Mason jars
DIRECTIONS
1. In a small bowl, combine the mini cheesecake recipe crust ingredients (graham cracker crumbs, sugar, and butter).
2. Add 4 tablespoons of the crust mixture to each Mason jar and press down with your fingers to compact the ingredients in the bottom of the jar.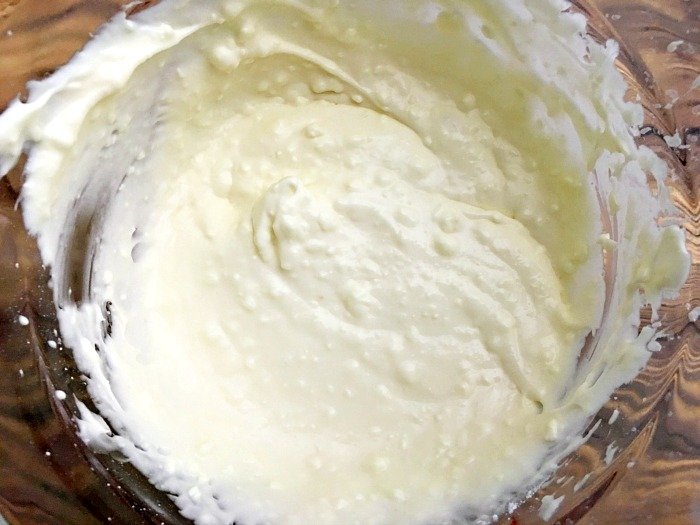 3. In a separate bowl, mix together the Mason jar cheesecake filling ingredients (cream cheese, powdered sugar, whipping cream, and vanilla).
Tip: Mix until they are a light and fluffy consistency.
4. Fill each Mason jar halfway up with cheesecake filling mixture.
5. Top off each cheesecake in a jar with cherry pie filling.
Enjoy this no bake cheesecake recipe!
Now that you know how to make cheesecake in a jar, want to learn how to make other Mason jar goodies? If so, be sure to follow Mason Jar Breakfast's:
What is your favorite mini cheesecake recipe? Please share in the comments.