Did you know there were s'mores recipes? Believe it or not, there are many ways to dress this summer snack up. Example: Here's how to make s'mores indoors!
How to Make S'mores in a Jar – Easy Recipe For Indoor S'mores!
I love s'mores; how about you? (I know I'm not alone here because there's totally a "National S'mores Day.") In my mind, nothing says "summer" quite like s'mores. This campfire fav has been a tradition for years and years, so it came as a bit of a surprise to me that there are s'mores recipes out there. In fact, there are lots of s'mores recipes out there. There are all kinds of ways to dress this summer snack up from how to make a low fat s'more to recipes for indoor s'mores.
No offense to those "how to make a low fat s'more" recipes, but today I want to focus on s'mores recipes for the great indoors. That way you can enjoys'mores year round. I mean stores have Christmas in July sales so why can't you celebrate National S'mores Day in August (it's on August 10th) and then again in the middle of winter? Be a rebel. Go for it. 😉
I'm sure you already know how to make s'mores the traditional way (with a campfire and flaming molten marshmallows), but you probably don't have a recipe for indoor s'mores. I know I didn't. So, let's change that. Oh, and if you couldn't guess, this s'mores recipes is in a jar. A Mason jar.
Anyway, this recipe for indoor s'mores has all the trappings of your traditional s'mores recipes…just a little different. For one, you don't have to build a campfire to pull this off. Nope, for your off-season National S'mores Day you can just use your plain old stove top! 🙂
So…without further ado, on with the s'mores recipe for indoor s'mores! Enjoy!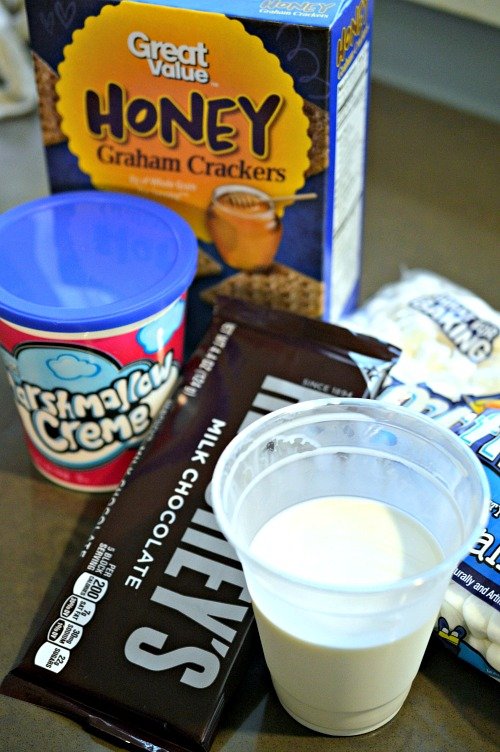 INGREDIENTS
The ingredients listed below for this s'mores recipes will fill 2 jars.
2 chocolate bars
1/4 cup heavy cream
1 cup marshmallow fluff (divided)
10 graham crackers (rectangles)
3 tablespoons butter, melted
mini marshmallows
2 pint sized wide-mouth Mason jars
DIRECTIONS
1. Break the chocolate bars into small pieces.
2. In a saucepan, warm the cream until it begins to bubble.
Tip: Watch the cream closely so that it doesn't get scalded.
3. Remove the cream from heat and add in the chocolate bar pieces.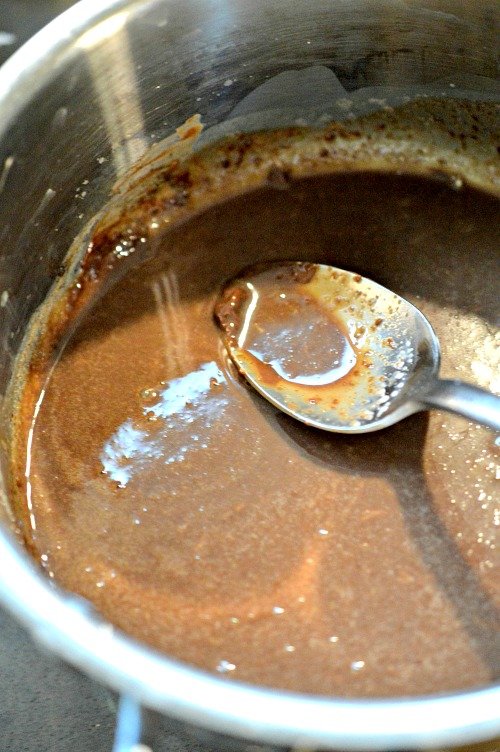 4. After a minute or so, the chocolate pieces should begin to melt. Whisk them into the cream until you have a smooth mixture.
5. Set the chocolate cream mixture aside.
6. Place graham crackers in a ziplock bag and crush them. You can crush them with the heal of your had, by running a rolling pin over the bag, or with the flat bottom of a glass.
Tip: If you have a food processor, you could put the graham crackers in it to pulverize them.
7. Dump the graham cracker crumbs into a small bowl.
8. Add the melted butter and mix.
9. Add 1/2 of the graham cracker crumb mixture to the bottom of one of your Mason jars.
10. Spread 1/2 cup of the marshmallow fluff over the graham cracker mixture.
Note: The marshmallow fluff in this s'mores recipes doesn't spread easily. Try warming it up first or just place it in the jar and wipe off the rim of the jar with a damp cloth or paper towel for a cleaner layered look.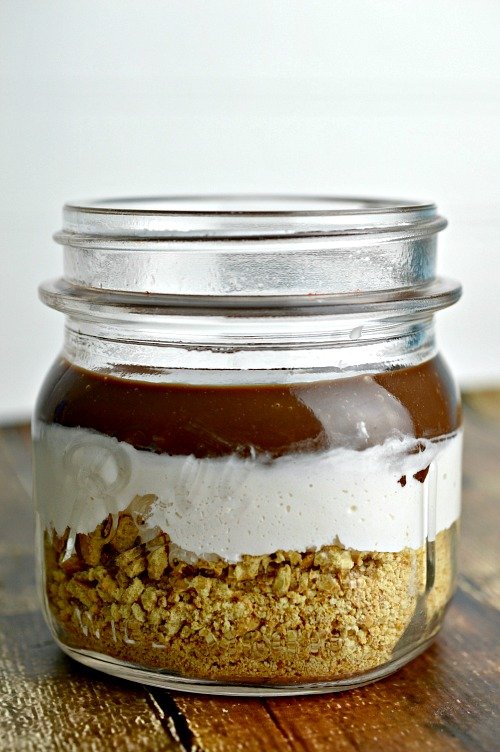 11. Pour 1/2 of the chocolate mixture over the marshmallow fluff.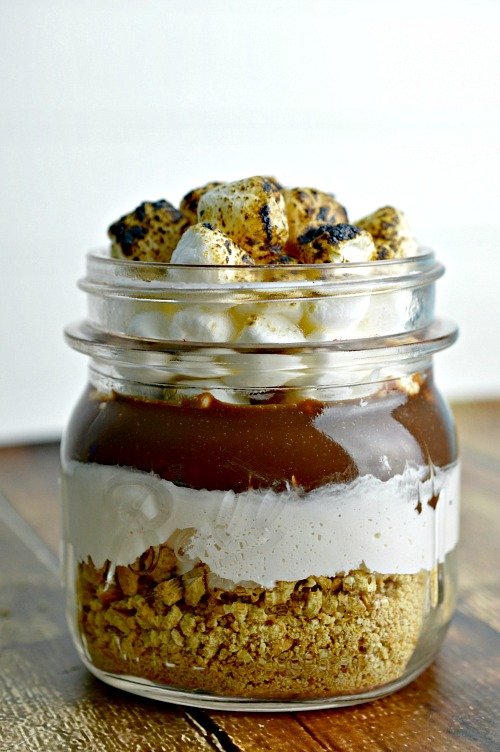 12. Top with mini marshmallows.
Tip: If you're feeling brave with this how to make s'mores recipe, you can use a blow torch to toast the tops of the mini marshmallows once they are in the jar.
13. Repeat steps 9 through 12 of this s'mores recipes with the other Mason jar.
14. Enjoy your recipe for indoor s'mores!
Okay, this s'mores recipe definitely isn't a "how to make low fat s'mores" recipe. If you have tips for making this recipe for indoor s'mores nutritious (and still delicious), please share in the comments!
For more decadent desserts in a jar, follow Mason Jar Breakfast's Desserts Pinterest board.