Check out this fun Mason Jar Gift to celebrate Easter!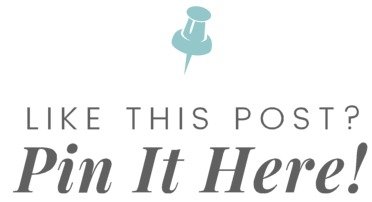 Easter Mason Jar Gifts: Easter Bunny Jar
Could you use a pick-me-up? Perhaps some distraction from troubling times? A fun craft to get creative, entertain the kiddos, and bring light to someone else's life this Easter?
Well, then this is for you!
I know I've been going a bit stir crazy lately from being stuck in the house, and I imagine many of you are too. It's nice to have an entertaining distraction, don't you think? And if that distraction involves creativity and gift-giving? All the better!
This Mason jar gift is fun and easy to make and a great way to celebrate Easter from afar! It's so simple, and you likely have most of the "ingredients" in your pantry already. (If you don't, they're easy to get delivered: I linked all of the materials, below, so you don't even have to leave your house!) Just 6 steps, and you'll have a cute (and delicious) Easter Mason jar gift that doubles as decoration!
What's more, this Mason jar gift idea is a great project for kids. After all, it combines a simple and fun craft with lots of candy! (Just know that all of the Robin Eggs might not make it into the jar 😉 )
This cute Mason jar gift is also inexpensive, so it makes a great surprise for family and friends! You can make a few and send them to any and all of the people in your life who could use a smile today:
Family
Friends
Your kid's friends!
Teachers
Delivery drivers
Nurses, doctors, and healthcare workers
While we may not be able to celebrate Easter with all of our loved ones in person, we can certainly make them feel loved–with help from this Mason jar gift and others like it. Here are a few more Mason jar gift ideas:
Ready to make this cute Easter bunny jar? Let's get started!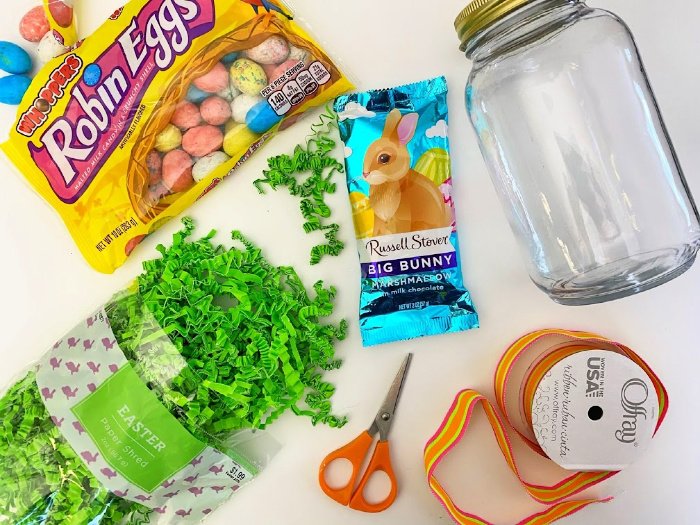 MATERIALS
Small chocolate bunny
Robin Egg candies
3/8" Easter ribbon
32 oz Mason jar
Green crinkle paper
DIRECTIONS
1. Clean and dry the Mason jar.
2. Place a handful of green crinkle paper in the bottom of the jars to act as the "grass."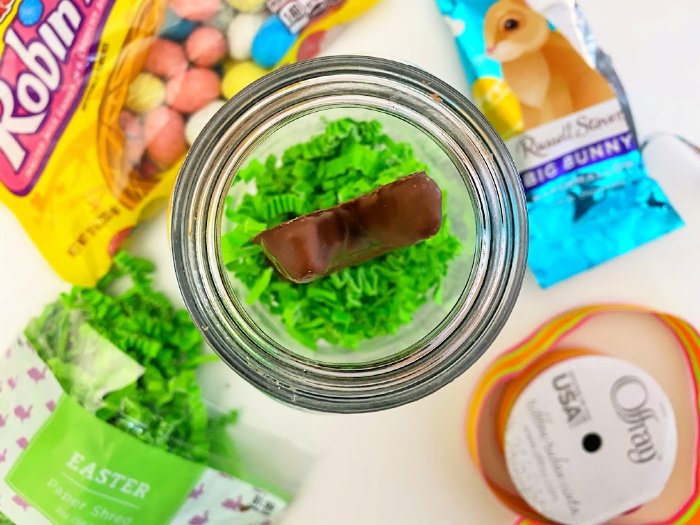 3. Carefully place a chocolate bunny on the crinkle paper.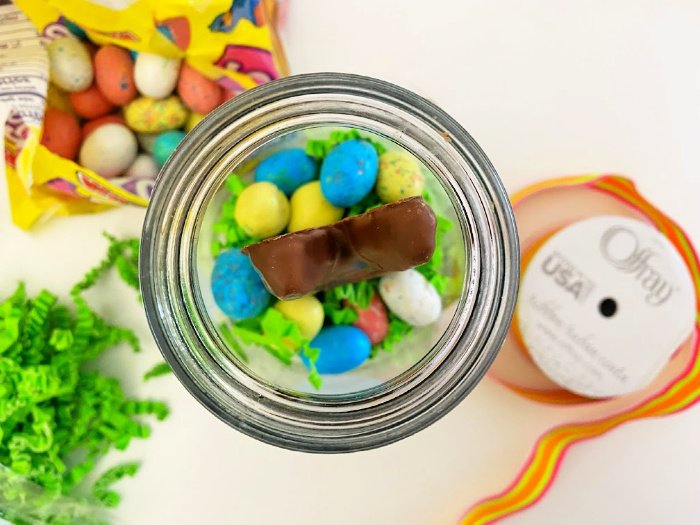 4. Add about 8-10 Robin Eggs around the bunny.
5. Screw the lid on.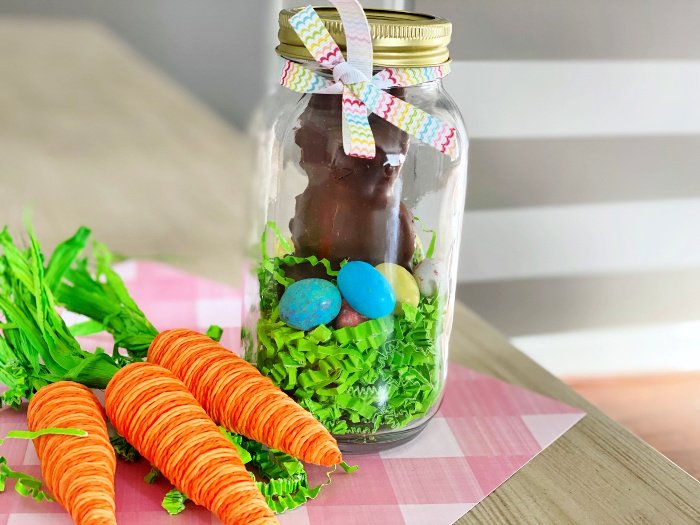 6. Tie a piece of ribbon into a bow around the top of the jar.
And you're done! So easy, right? I recommend writing a sweet note to go along with this Mason jar gift. (Alternatively, if your kids are making this Mason jar gift, have them write and color a card.) Anyone would love receiving this handmade gift and handwritten note for Easter!
Looking for more craft ideas for Easter (and beyond)? Be sure to check out Mason Jar Breakfast on Pinterest! There, you'll find dozens upon dozens of fun, creative projects and delicious treats to do and make while you have this extra time. Follow Mason Jar Easter Ideas, Mason Jar Gifts, and Best of Mason Jar Breakfast.
Until next time, I hope your family is happy and safe this Easter season!