Looking for an easy, fun, frugal DIY holiday gift idea? This DIY snowman Mason jar checks all the boxes!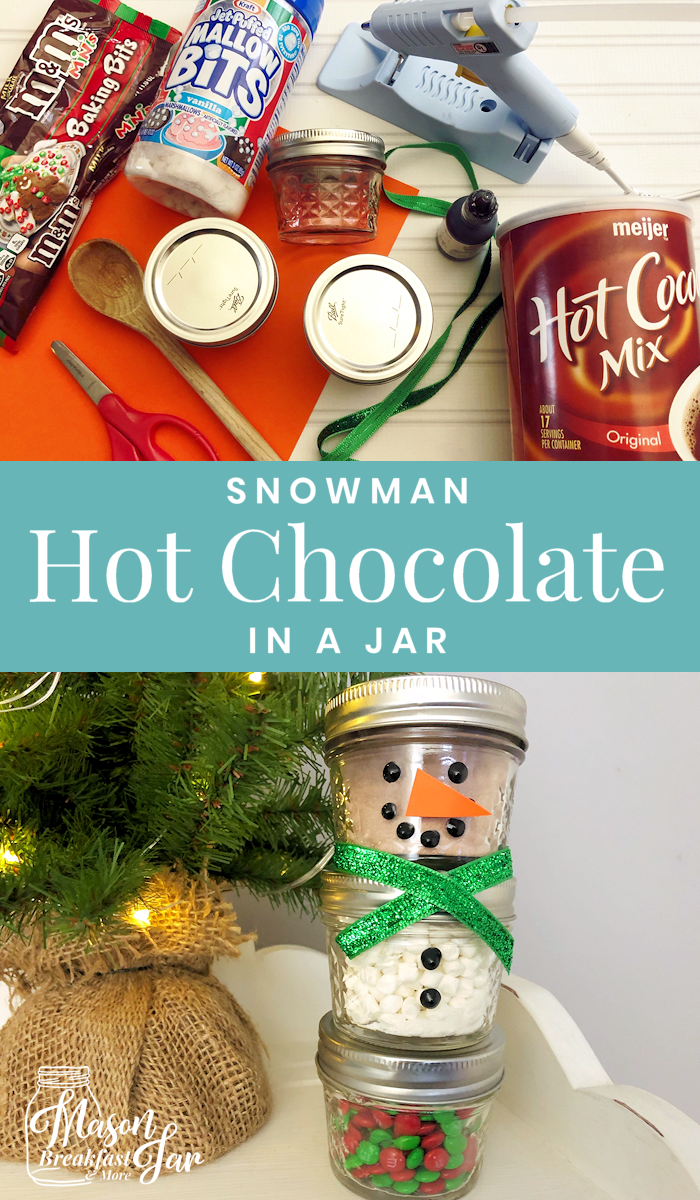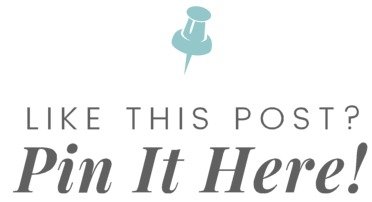 DIY Snowman Mason Jar Hot Chocolate Gift Idea
The holiday season can be busy and stressful sometimes (so many gifts to buy! so many treats to make! so many holiday parties and events to attend!), so I love finding ways to make things fun and easy. Enter Mason jar recipes: they're a snap to make, inexpensive, and easy to transport! (What I call a win all around!)
That means that you can spend more time doing the things that truly matter this holiday season (like caroling, making snow angels, watching Christmas movies, and just spending time with friends and family) and less time doing the things that don't matter as much (like worrying about whether everyone has enough gifts, stressing about money, and feeling exhausted from marathon mall shopping).
This Mason jar gift recipe is a DIY snowman Mason jar. It's one of my favorite holiday gifts: anyone would appreciate getting hot chocolate–in cute packaging, no less!–during the holiday season. It's the perfect little gift: you can throw it in a family member's stocking, bring it to a White Elephant gift exchange, give it to your postman (and other service workers), and give it out as a teacher gift.
Plus, with the ingredients listed below, it's easy to make this gift in bulk: just buy as many Mason jars as you need to use up the M&Ms, marshmallows, and hot cocoa. (This makes it even more frugal–great for those of us who have a tight budget this year.)
If you have some gift recipients that–GASP–don't like hot chocolate (you know I love it, but it's not for everyone), don't worry! Head on over to 25 Mason Jar Recipes: Holiday Gifts in a Jar to find DIY Mason jar Christmas gifts of all kinds–even some healthier and savory options, like soup! I'm sure you'll find something there for even the pickiest eaters.
Ready to find out how to make this DIY snowman Mason jar? Let's get started!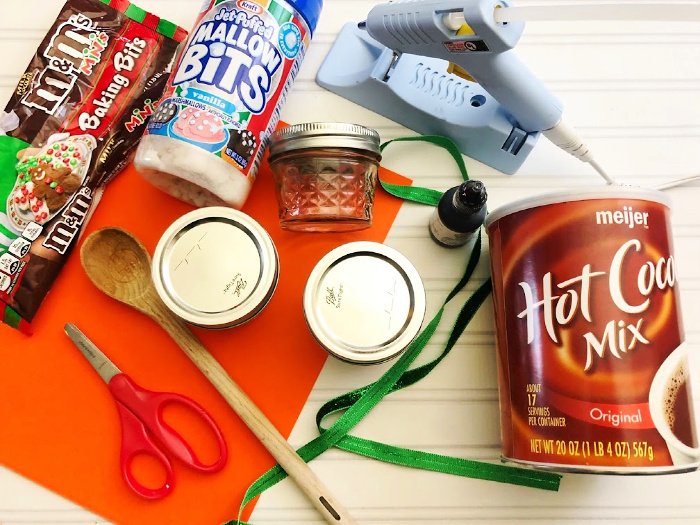 MATERIALS
(3) 4 oz Mason jars (or more, if you're picking several "snowmen")
Cocoa mix
Miniature marshmallows
Miniature red and green baking M&M's
Christmas ribbons (no larger than 3/4")
Orange paper
Black puffy paint
Scissors
Hot glue/hot glue gun
DIRECTIONS
1. Wash and dry each jar. (Do this even if you bought them new: there still could be dirt, dust, or chemical residue on the glass!)

2. Fill one jar with M&M's.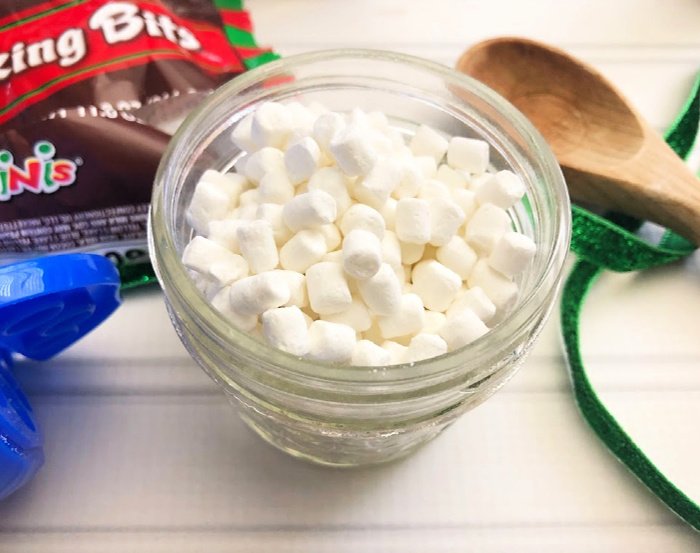 3. Fill one jar with miniature marshmallows.
4. Fill one jar with cocoa powder.
5. Cut a small triangle from the orange paper. Paste the triangle to the center front of the cocoa powder jar so it looks like a snowman's nose.

6. Use the puffy paint to draw eyes and a mouth on the same jar.
7. Carefully hot glue each jar on top of each other.

8. Wrap a piece of ribbon around the bottom of the top jar, crisscross the ribbon across the front, and cut the ends at an angle to make the snowman's scarf.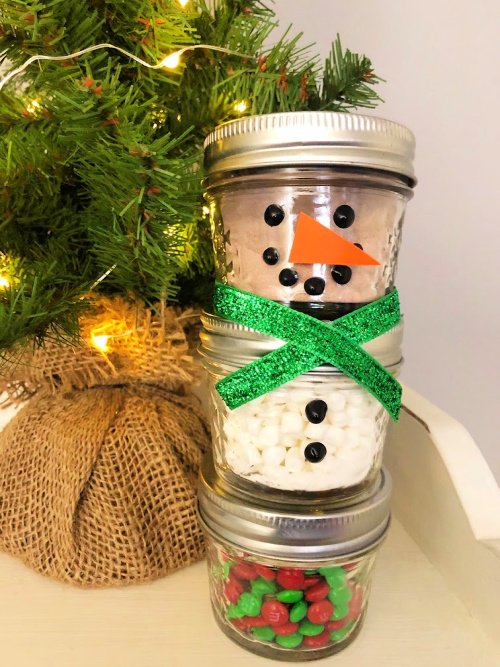 9. Draw two dots on the second jar for buttons, and let dry overnight.
10. Gift to a friend!
*Be sure to carefully pick up the jars: it's only held together by hot glue so that you can easily pull it apart to use the ingredients inside.
And that's it! So easy, right? If you want to decorate this DIY Mason jar gift even more, check out the post 18 Mason Jar Gift Recipes with Free Printable Gift Tags. You can print out FREE cute tags to put on your DIY snowman Mason jar and find a bunch more recipes to use as gifts!
I can't wait to hear how your snowman turns out (or if you went with a different DIY Mason jar gift)! Let me know in the comments below!