What are you waiting for? All that's standing between you and this decadent microwave French toast recipe are 6 ingredients and a few minutes!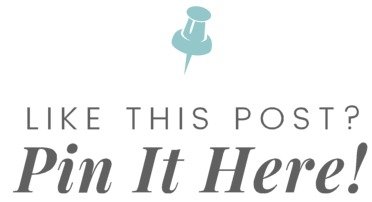 Mason Jar Peanut Butter & Chocolate Microwave French Toast
If you've ever woken up on the wrong side of the bed, this sweet microwave French toast recipe is sure to turn that frown upside down! 🙂 Typically, I opt for healthy breakfast options like a protein packed Greek yogurt parfait or an omelet in a jar, but every once in a while I decide to indulge. If I know I have a challenging day ahead of me, I'll opt for a sweet treat that would normally be reserved for the weekends, like French toast!
Thanks to microwave French toast recipes, like this one, I can treat my sweet tooth without having to get up at the crack of down. Yep, French toast can be made in the microwave. I wish I would have known this in college! 🙂

This microwave French toast recipe can be made in approximately five minutes so its perfect when you need to get your breakfast on and get out the door! (Also known as every weekday around my house!)
While this microwave French toast recipe is quick, it's also really (really) good. Trust me, you're not sacrificing on taste here! I'd even whip this recipe up on the weekends. In fact, it's great when you have a house full of picky eaters because everyone can get their own custom French toast jars without Mom having to dirty every dish in the kitchen. For example, if peanut butter and chocolate are just a little too sweet for you first thing in the morning, try this blueberry microwave French toast recipe instead.
Ready to meet your new breakfast BFF? Great, allow me to introduce you to peanut butter and chocolate chip microwave French toast!
INGREDIENTS
Texas toast
1 egg
1/4 cup heavy cream
2 TBSP peanut butter
Chocolate chips
8 oz Mason jar
DIRECTIONS
1. Add egg and heavy cream to a Mason jar and whisk to combine.
2. Add peanut butter to the Mason jar and microwave for 15 seconds or until melted.
3. Pour 1 tablespoon of the peanut butter into the egg mixture and mix well.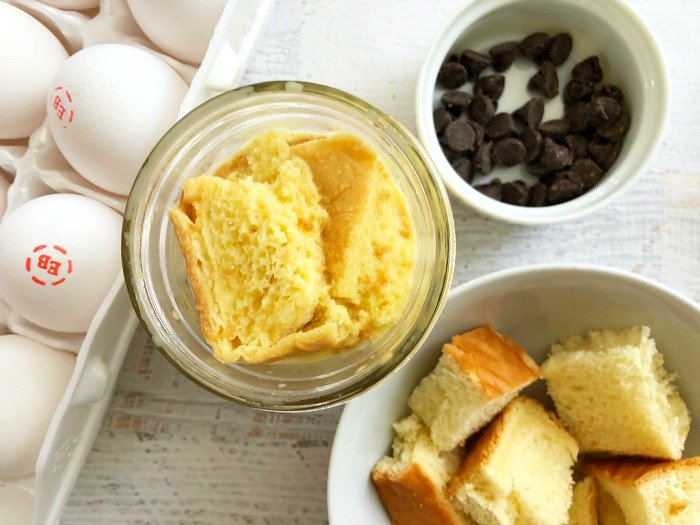 4. Cut Texas toast into cubes; place bread cubes in Mason jar.
5. Add some chocolate chips to the top.
Note: The amount of chocolate chips you add to your microwave French toast is totally up to you! 🙂
6. Place lid on Mason jar and shake to combine contents.
7. Remove the Mason jar lid and microwave jar for 2-3 minutes in 30 second intervals. Wait 10 seconds between each interval.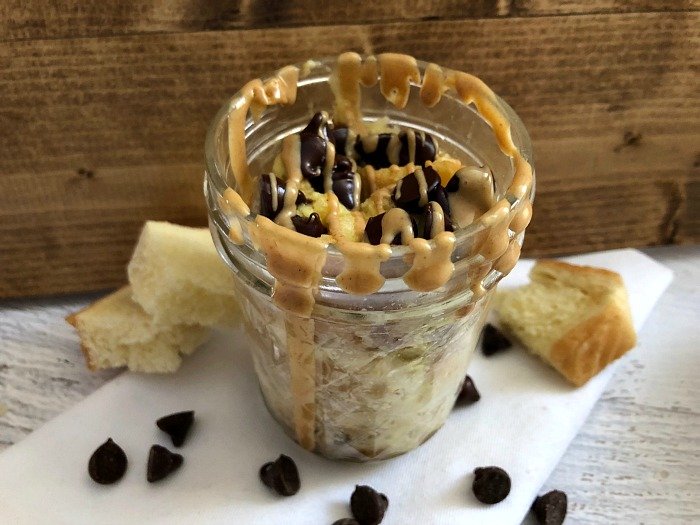 8. Add remaining 1 tablespoon of peanut butter to the top and enjoy your microwave French toast!
This microwave French toast recipe is awesome, but if you prefer a little variety in your life, I've got you covered. Find even more tasty and easy breakfast options right here on Mason Jar Breakfasts & More or by following the Mason Jar Breakfasts and Best of Mason Jar Breakfasts & More Pinterest boards.