A soy mason jar candle or two makes for frugal home decor, party centerpieces, and gifts. Don't believe it? Try this easy DIY mason jar candle project for yourself.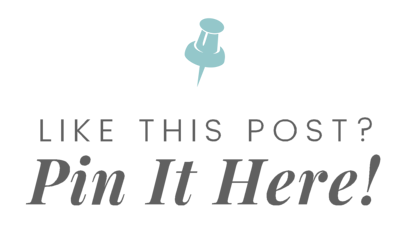 DIY Funfetti Soy Mason Jar Candle
One of the things I dislike about winter is how the house starts to get that stale shut-up smell. Do you know what I'm talking about? Plus, it seems like other smells (such as those from cooking) linger forever due to the restricted airflow. Now, obviously, there are a lot of products that could help; I mean, there's like half an aisle at the grocery store devoted to air fresheners, candles, and other air clearing products. For me, there are two problem with those store-bought goods. One, they can be a bit pricy. Two, I'm not a fan of that artificial chemical smell a lot of the products generate. So, what's a girl to do? Why, make a soy Mason jar candle! (Of course.) 🙂
Not only do Mason jar soy candles help make your home smell better, they're also pretty. A spray bottle of air fresher or one of those things that hog an outlet aren't quite fine home decor, am I right?
Most homemade Mason jar candles, including this one, are fairly customizable so you can create something that really fits in with your home and your personal tastes. With this soy Mason jar candle, you could dye the soy wax flakes or opt for sprinkles that are a certain color. For instance, a white candle with gold sprinkles could look a little more sophisticated. When you opt for a DIY Mason jar candles project, it isn't just the aesthetic you can customize. I went with a vanilla smell for this soy Mason jar candle because it's simple and not cloying but you could try a different scent if you want. Maybe lavender for your bedroom to help you relax before turning in for the night?
At the end of the day, don't be afraid to think outside the box and get creative with your Mason jar soy candles. Seriously, they're pretty difficult to botch.
Like I said, soy Mason jar candles are fairly quick and simple. This isn't a craft project that'll have you locked away for an entire day. You can probably make one in about 25-30 minutes not counting the time you have to freeze the candle to harden the wax. Plus, it's pretty easy to make more than one homemade Mason jar candle at a time, especially if they're all going to look the same. Just double (or triple) the ingredients, line your jars up, and go.
Which brings me to my next point. These DIY Mason jar candles are not just fun and frugal home decor. They also make for adorable and inexpensive party centerpieces. For example, consider placing a few on a picnic table for your next backyard bash. You know, like around Independence Day.
Another great use for these soy Mason jar candles is to give them as gifts. Come on, I know you've given that notoriously-hard-to-buy-for person in your life a candle before. Next time, instead of spending $20 on a store-bought candle, make one. It'll be more personal and heartfelt. You can even custom the Mason jar soy candle to fit his or her tastes (ex. make it in his or her favorite color).
So, without further ado, let's make some soy Mason jar candles! 🙂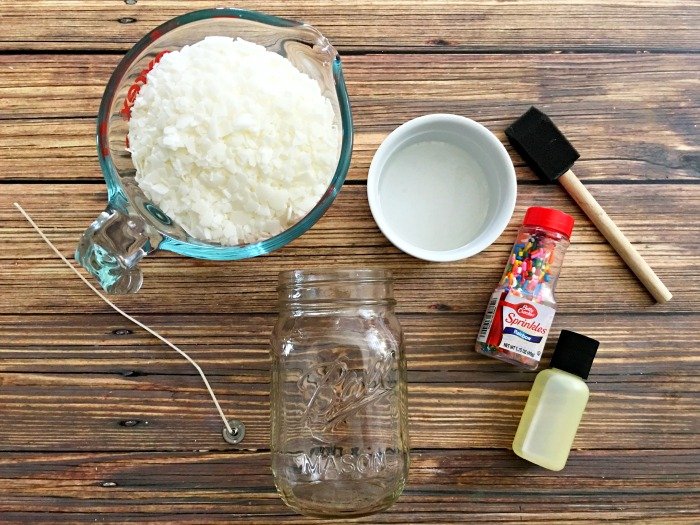 MATERIALS
3 cups soy wax flakes
1 Tablespoon liquid vanilla
2 Tablespoons sprinkles
1 teaspoon light corn syrup
1/2 teaspoon water
Long waxed candle wick
16 oz. Mason jar
Long wooden pencil
Large glass measuring cup
Paint brush
DIRECTIONS
1. Place wax flakes in a glass measuring cup and heat in the microwave for about 2-3 minutes or until completely melted.
Caution: Handle carefully with potholders; the glass and the contents will be very hot.
2. In a separate bowl, mix corn syrup and water.
3. Using a clean paint brush, spread some of the corn syrup and water mixture on the insides of the Mason jar.
Tip: You're just trying to make the inside walls of the Mason jar sticky.
4. Pour sprinkles into the Mason jar, replace the lid, and shake.
Note: The sprinkles should stick to the sides of the jar.
5. Dip the bottom metal part of the wick into the hot wax and then press into the bottom center of the Mason jar.
6. Wrap the top of the wick around a pencil and place the pencil across the top of the Mason jar to hold the wick up out of the jar.
7. Mix vanilla into the hot wax.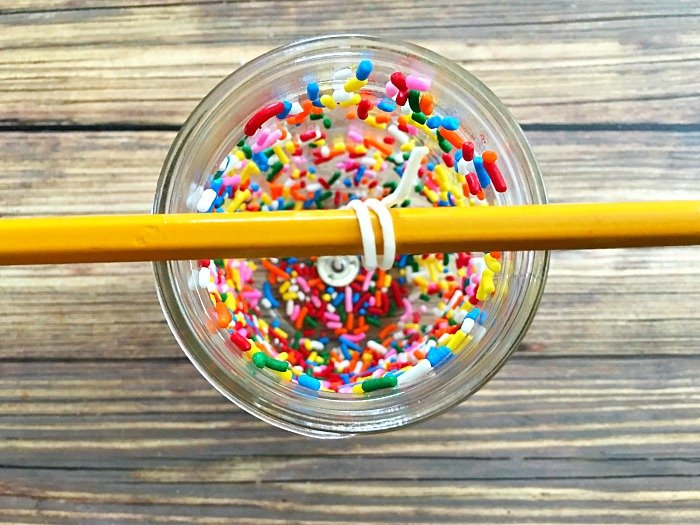 8. Pour wax into the Mason jar.
9. Using potholders, transfer the Mason jar to the freezer; freeze for approximately 1 hour.
10. Trim the top of the wick.
11. Enjoy your soy Mason jar candle!
Caution: Never leave a homemade Mason jar candle (or any candle) unsupervised.
Looking for other ways to freshen up your home? Try this:
Did you customize this DIY mason jar candles project? Share your experience in the comments!